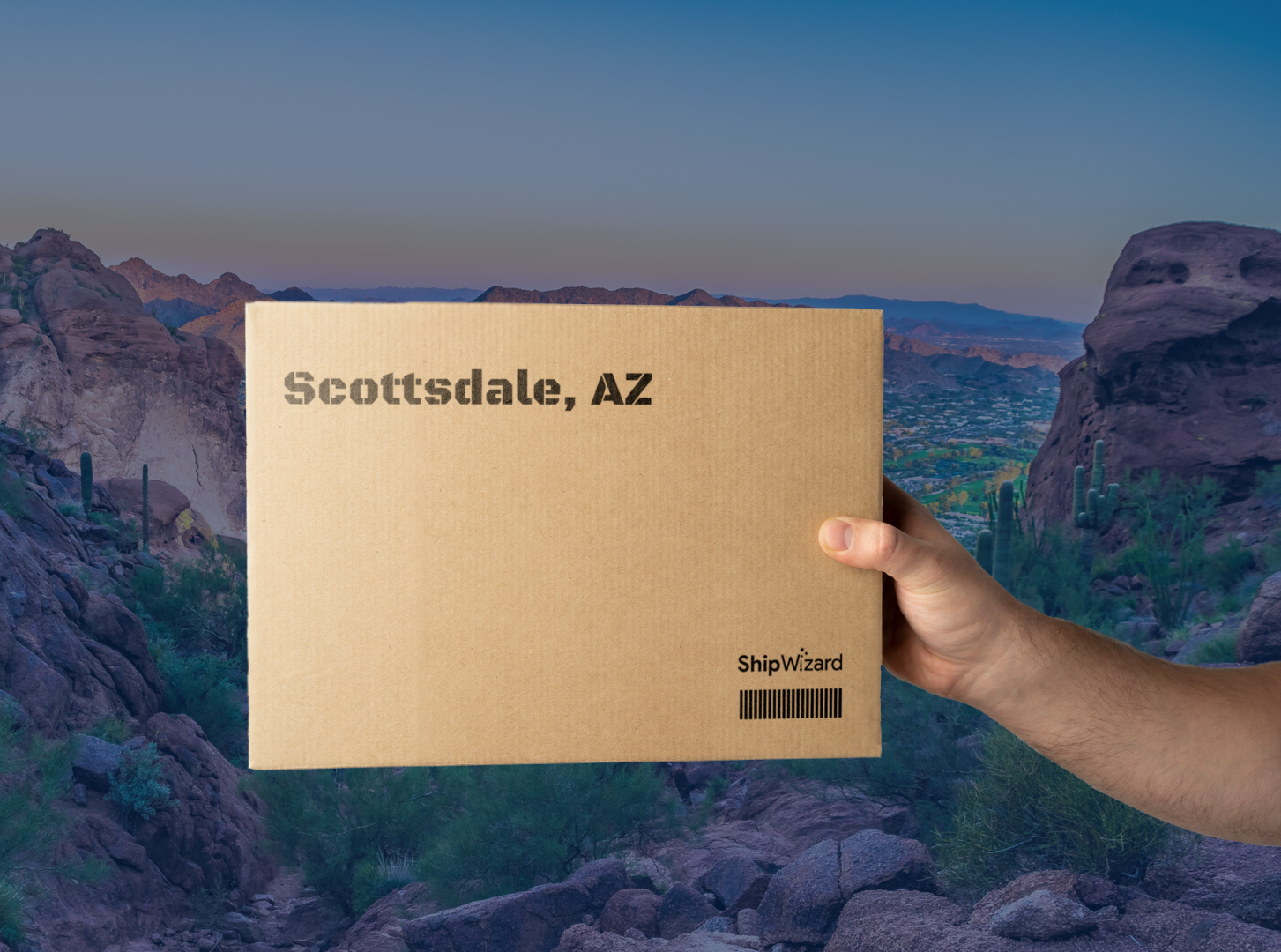 If your e-commerce business is based in or near Scottsdale, AZ, you may be familiar with local fulfillment center options near you. The predictable weather, access to a growing talent pool, and the business-friendly climate make Scottsdale an attractive location for fulfillment warehouses. ShipWizard, a seasoned 3PL provider, offers a spacious and secure Arizona fulfillment facility, perfect for Scottsdale businesses.
Scottsdale – A Business Destination
Scottsdale, Arizona is located in the beautiful Sonoran Desert at the foot of the scenic McDowell Mountains. It is bordered by Phoenix to the West, the Tonto National Forrest to the North, the McDowell Mountains to the East, and the Salt River to the South. Scottsdale is known as a vacation as well as business destination. The City of Scottsdale is one of Arizona's 10 largest cities with a population of more than 240,000. Scottsdale is recognized nationwide as one of the top markets for business performance, job growth, livability and friendly culture. Scottsdale is dedicated to the success of its residents and business community. The city's progressive leadership has kept taxes low for both families and corporations.
"The West's Most Western Town" is home to more than 15,000 businesses with nearly 25% percent of Arizona corporate headquarters calling the city home. It is well-known for venture capital investment. Scottsdale is considered Arizona's leading district, with top Investors capitalizing on startup companies' sustainable growth potential. Due to its great environment, Scottsdale is deemed one of the best-run cities, and one of the best cities to open up a startup.
If you own or manage a business based in Scottsdale, AZ, you are in good company. Some of the top companies headquartered in Scottsdale include:
GoDaddy
Discount Tire
Massage Envy
At P F. Chang's China Bistro
Carlisle Companies
TPI Composites
Plexus Worldwide
Dial
Rimrock
Redrock Partners
How To Choose a Scottsdale 3PL Partner
When choosing a 3PL partner for your e-commerce business, you have many options to choose from, from a smaller local Scottsdale company to nationwide players. What should you consider when evaluating your options? Below are a few factors to review:
Security: Not only should your 3PL have all necessary safety training and compliance for its employees, it should also ensure the protection of your data and resources. Besides the protection of your goods and the safety of personnel, you also want a fulfillment partner that takes security seriously. Safeguarding financial information is crucial to protecting sensitive customer data.
Customer service: When you entrust your inventory and fulfillment to a 3PL partner in Scottsdale, you want to make sure that customer service is available when you need it. When meeting with possible 3PL candidates, find out who your primary point of contact would be, how quickly you can expect to hear back from them in case of routine questions as well as emergencies, and what type of contingencies are in place.
Scalability: Whether you currently fulfill 10 orders a month or 10,000, your volume and needs may change as your business evolves. The right 3PL will allow you to scale up as needed. The warehouse space, the staff, the technology, the shipping, the returns management – the best fulfillment partner will be able to scale all of these elements without any disruption to your logistics.
Customization: A warehouse 3PL is integrated into a company's warehousing and transportation procedures and specializes in the storing and distribution of goods and/or services. Many warehouse 3PL providers offer customizable ways to handle storage, distribution, and product transportation. Take the time to discuss your product and process with every 3PL you are considering, to see what type of customization may be necessary in order to onboard your business.
Technology Integration: even with all the benefits of outsourcing your fulfillment operations, your partnership will only be as successful as the flow of information between your internal systems and your 3PL. With that in mind, you will want to make sure that the Scottsdale 3PL you choose can integrate with your e-commerce solution: WordPress, Shopify, Wix, Magento, Salesforce, or any of the dozens other commercial solutions. Don't sign a contract with a 3PL partner unless you can be 100% sure that it can easily integrate with your platform.
Trust ShipWizard with Your Scottsdale 3PL Needs
As premier fulfillment services and third-party logistics (3PL) company, ShipWizard works with companies of every size from a variety of industries to get things done with efficiency, flexibility, and the highest level of service. We believe that it's important to establish a proper connection with a partner in order to form the business relationship that is going to benefit your organization the most.
With roots in Florida, we have expanded to a 2nd location close to Scottsdale, AZ, enabling us to provide 2 business day delivery to anywhere in the continental US. When looking for a fulfillment warehouse near you in Scottsdale, you will find that Shipwizard offers the flexibility and personal attention you may expect from a local fulfillment warehouse, along with the robust technology and capabilities of a nationwide 3PL. Request a quote today, or schedule a time to visit our Arizona location conveniently located near Scottsdale.