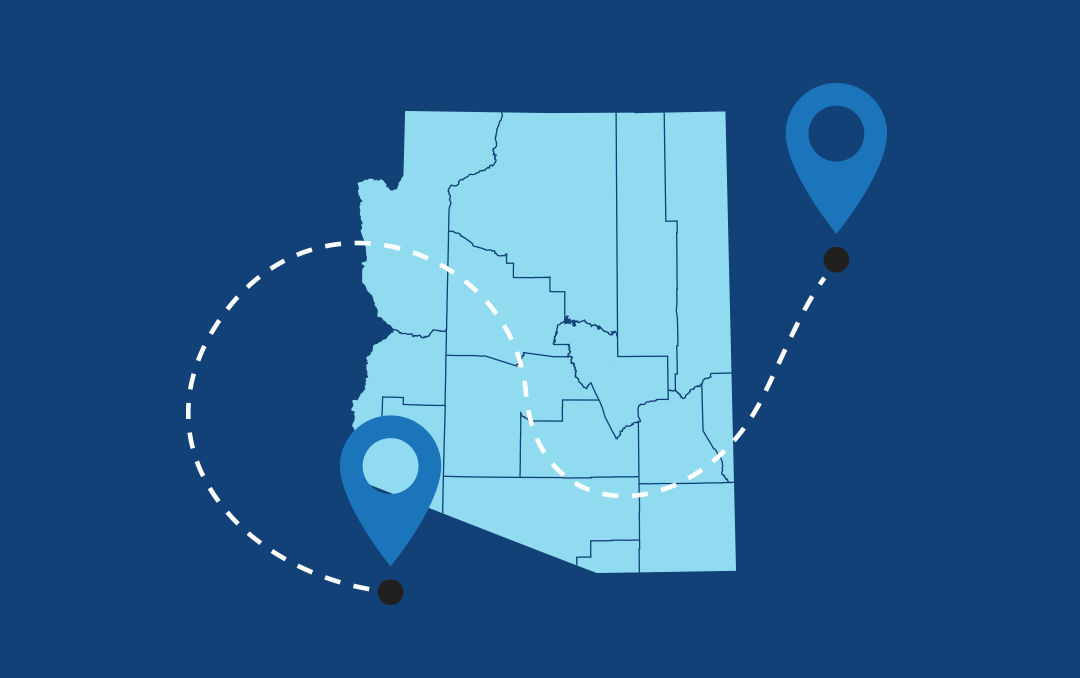 Phoenix AZ: A Hub For Shipping and Logistics
Need your orders to reach customers in the Southwest and West Coast quickly? Consider a Phoenix, AZ fulfillment center. Dozens of major retailers and brands have recently built major distribution centers in the Phoenix area: you will find Walmart, Home Depot, Target, The Gap, Amazon and PetSmart warehouses in the area. Amazon has more than 7,000 full-time employees in Arizona, with three of its five Arizona fulfillment centers located in Phoenix. At ShipWizard, we chose to place our second fulfillment center in Phoenix, AZ to complement our original location in Ft. Lauderdale, FL. Our customers appreciate this choice of location, for multiple reasons.  
Proximity To 35 Million Consumers 
Every mile and every minute count when shipping is involved. Fast delivery is more than a convenient option in today's competitive consumer marketplace; it is an expectation. According to a McKinsey report, 75% of retailers plan to build out fulfillment networks in order to offer two-day or faster delivery. In order to speed up shipping, brands need to store and ship products from a location that is close to their end consumer. For Phoenix-based fulfillment, two-day delivery to the Southwest and the West Coast is achievable thanks to Phoenix's proximity to a large base of consumers, and major highways that connect Phoenix to the rest of the region. GPEC reports that 35 million consumers can be reached by truck haul within one day, and Phoenix Sky Harbor International Airport provides access to 129 domestic and international locations through more than 1,200 daily flights. The Phoenix warehouse, complemented with our East Coast location in Ft. Lauderdale, FL, enables Shipwizard to provide two-day shipping coverage throughout the entire continental US.

Phoenix Fulfillment Benefits From Predictable Weather
With an average of 300 days of sunshine per year, Phoenix is one of the few places in the US that is relatively free of natural disasters or unpredictable, delivery-halting weather. What does sunshine have to do with your 3PL? Once your customer's order is packed, the fulfillment center coordinates with parcel carriers such as UPS, Fedex, or DHL to pick up shipments. Weather-related delays can impact the pickup time, as well as time in transit. Weather-related delays cost the freight industry $8 billion to $9 billion annually. Extreme weather conditions can cause damage to the load, delays, and increases the chances of accidents. Heavy snowfall and ice can result in blocked roadways and traffic jams in colder climates. Large amounts of rainfall can lead to localized urban flooding, often leaving roadways impassable for days. High wind speeds, specifically crosswinds, can also produce transportation challenges. Fortunately, Phoenix weather is largely predictable and consistent, making it a sound location for a fulfillment warehouse. At Shipwizard's Phoenix location, we enjoy the sunshine almost as much as we enjoy getting orders packed and delivered on time!
Phoenix Fulfillment Team
After weather and transportation, the next likely culprit of logistics delays is the human factor. With labor shortages affecting much of the nation, you may be wondering whether your 3PL partner has adequate staff to handle your order volume. Here, too, we have good news from our Phoenix warehouse. Arizona's population is currently 7.2 million people and is projected to grow to 8.2 million by 2030. The talent pool in Arizona is also growing faster than any other US metro market. Phoenix is the fastest-growing US city, with more than one-quarter of a million new residents calling Phoenix "home" since the 2010 Decennial Census. Since opening our Phoenix fulfillment center in 2021, we have built and trained a highly skilled and productive team. Every order that is received at the warehouse is treated with the utmost care by our team. We take pride in meeting or exceeding your customers' order delivery expectations. 
Partner With A Trusted Phoenix 3PL For Efficient Order Fulfillment
While we are relatively new to Phoenix, ShipWizard brings a history of 3PL excellence and a robust suite of services. From apparel to electronics, we handle product fulfillment from a variety of industries. Our clients include governments and municipalities, direct mail catalogers and multi-channel merchants, manufacturers, and retailers. Whether your business is located in Phoenix, a few states away, or even outside the US, we look forward to providing outstanding 3PL services to you and your customers. Contact our Arizona office today to discuss your goals.