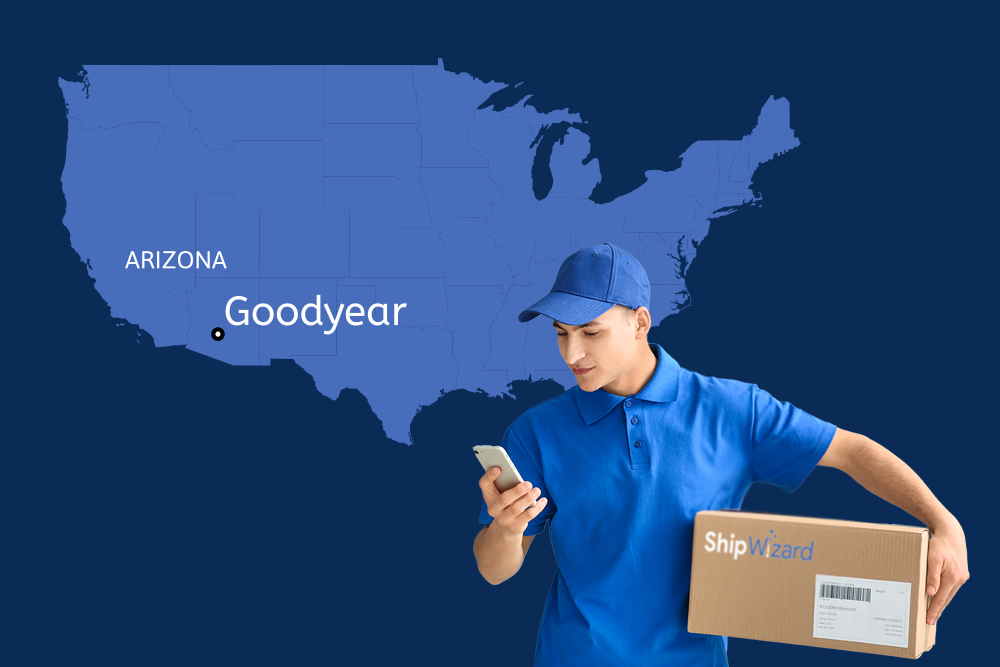 3PL Services Serving Goodyear, AZ
If your e-commerce business is based in or near Goodyear, AZ, you may be familiar with local fulfillment centers near you. Goodyear is home to regional distribution centers for Amazon, UPS, Macy's, Bloomingdales, Chewy.com, Dicks's Sporting Goods, and other household names. Now, smaller businesses can also reap the benefits of Goodyear's location. ShipWizard, an experienced 3PL provider, is strategically located near Goodyear AZ, to provide a full range of fulfillment services for businesses of all sizes.
Goodyear – A Distribution Hub
Goodyear, AZ is located less than 20 minutes from downtown Phoenix, Goodyear boasts over 300+ days of sunshine and a diverse blend of amenities with abundant cultural, educational and entertainment resources. Goodyear is also the Spring Training and player development home of Major League Baseball's Cleveland Guardians and Cincinnati Reds. Ranked by 24/7 Wall St. as one of America's Top 10 Best Cities to Live, it's no wonder that Goodyear population grew by 46% from 65,275 in 2010 to 95,294 in 2020.
The highly educated and skilled workforce, affordable housing, a business-friendly climate and a lot of southwest charm, create the right economic conditions for businesses to thrive in Goodeyar. The city's close proximity to Interstate 10, the Loop 101 and 303 freeways ensure excellent transportation access to airports and rail services.
Goodyear's distribution and logistics industry provides companies an ideal location to reach a large consumer base and seamlessly move their products. Numerous Fortune 500 companies including Amazon, Ball Corporation, Dick's Sporting Goods, Microsoft, and UPS have chosen Goodyear as a distribution hub.
What To Look For When Selecting A Goodyear 3PL
You don't have to be a Fortune 500 company to enjoy the benefits of a West Coast fulfillment center in or near Goodyear. There are plenty of 3PL options for you to consider in the greater Phoenix area. To help you narrow down your options, here are some questions to consider:
Size: Does the warehouse have enough space for your inventory? What happens if your business grows and your warehousing and fulfillment needs change?
Security: How will 3PL protect your merchandise? Does it have closed-circuit cameras in the facility? How are packages and products tracked in the warehouse cycle?
Customer service: Many 3PLs are pursuing growth at all costs. Does your 3PL partner provide a dedicated account representative? Can you meet this person or team before you sign the contract? Look for service providers who are forthright, accountable, and proactively communicate potential issues.
2-Day Delivery: If your business is based in or near Goodyear, it's easy to find a 3PL provider that will deliver your orders quickly to the Western states. What about the rest of the country? Look for a 3PL that can ensure 2-business day delivery to all of US by distributing your inventory across its warehouses. The more spread out your inventory storage is, the better chance you have of getting items as close as possible to your customers.

Costs: Order fulfillment fees vary a great deal for 3PLs, because some roll costs together and others charge for every single movement. A 3PL cost calculator is a helpful tool for estimating your costs. If the 3PL does not disclose its pricing on its website, be sure to ask about the following fees:
Set up
Inbound shipping and receiving
Storage and warehousing
Box and packaging
Pick and pack
Label printing and order insert
Shipping
Workorders
Returns
Account management
Ultimately, selecting a 3PL comes down to trust. When entering into a long-term 3PL relationship, you want to make sure that the vendor understands your industry, communicates with transparency, and treats your business like its own.
Comprehensive Goodyear AZ Fulfillment Services
As a premier fulfillment services and third-party logistics (3PL) company, ShipWizard provides a comprehensive suite of 3Pl services for Goodyear companies. Our fulfillment services include:
Reverse Logistics, or Returns Management
Merchandise Quality Inspection
Originally founded in Florida, our 2nd location near Goodyear, AZ, enables us to provide 2 business day delivery to anywhere in the continental US. When looking for a fulfillment warehouse near you in Goodyear, you will find that Shipwizard offers the individual attention you may expect from a local fulfillment warehouse, along with the robust technology and fulfillment capabilities of a nationwide 3PL. Request a quote today, or schedule a time to visit our Arizona location conveniently located near Goodyear.