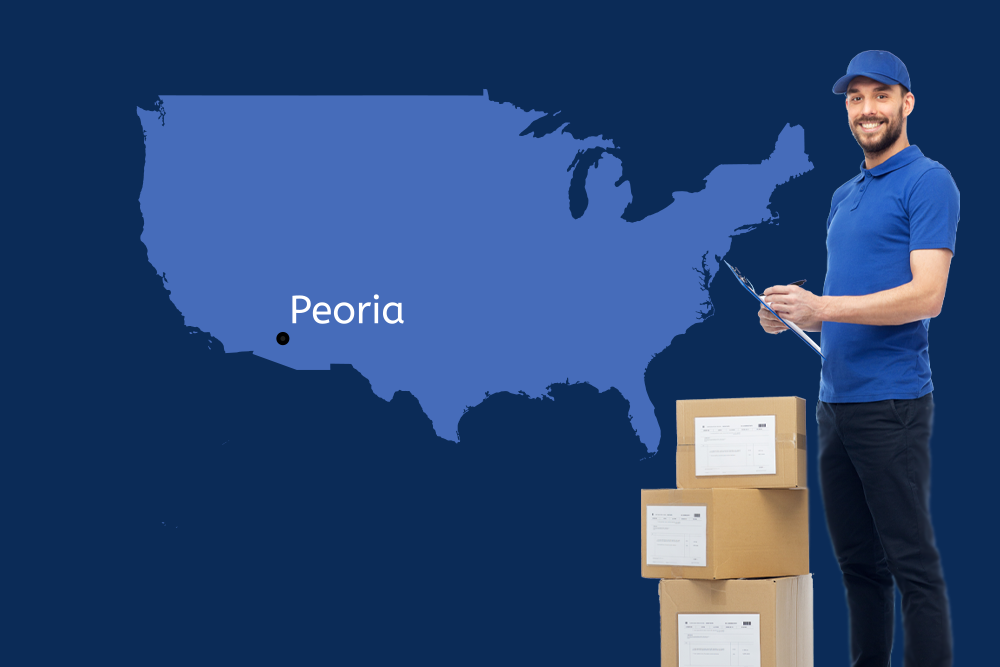 Choosing a 3PL for your Peoria, AZ Business
Peoria, AZ is a great place to start a business. Peoria is a business-friendly community with lower costs of doing business and less regulation than neighboring states. Located in the Phoenix metropolitan area, Peoria is ideally located in close proximity to California and to Mexico. The city has been honored by Money Magazine, Forbes, Wallethub, USA Today and more for its livability and thriving economy. If your Peoria-based business is in need of a reliable local 3PL partner for warehousing and fulfillment, ShipWizard is here to guide you through the selection process. 
Peoria AZ Businesses
Located about 30 minutes northwest of downtown Phoenix, located partially in Maricopa County, and partially in Yavapai County, Peoria a major suburb of Phoenix. Peoria was established in 1886 as a humble agricultural community. Since incorporating on June 7, 1954, Peoria has blossomed into a rapidly-growing, modern city that offers a high quality of living in the natural beauty of the Sonoran Desert.
Peoria is the spring training home of the San Diego Padres and Seattle Mariners. The Peoria Sports Complex was the first Major League Baseball Spring Training and player development facility in the country shared by two teams. The area surrounding the Peoria Sports Complex is known as the P83 Entertainment District and hosts numerous hotels, restaurants, shopping, and entertainment.
With so many amenities and opportunities, it is no wonder that Peoria was ranked as the No. 1 city to live, work, and play in Arizona (Ranking Arizona, 2021). Know for its strong healthcare labor pool, many of the largest in Peoria are in the healthcare industry. The other top industry is Peoria is manufacturing. The top employers in the City of Peoria include Walmart, Younger Brothers Companies Inc, The Antigua Group Inc, and OakCraft Inc.
Why Outsource E-Commerce Fulfillment in Peoria?
There is great potential for Peoria e-retailers to benefit from outsourcing e-commerce fulfillment to a trusted 3PL. Outsourcing order fulfillment is particularly attractive if you operate an online store but don't want to invest in warehouse and distribution facilities. The benefits of outsourcing to a 3PL include:
Flexibility to manage seasonal sales fluctuations: While increased sales are always desirable, unforeseen surges and seasonal rushes can create headaches and expenses. To respond to a higher-than-normal volume of orders, such as during the summer months, you may need to hire additional workers, buy more capital equipment or even lease extra warehouse space. Then, when sales return to "normal" levels, you are left with extra workers, equipment and square footage you no longer need. An order fulfillment service near you in Peoria lets you effortlessly scale up for sales surges and scale back when needed.
Fewer employees: A fulfillment services company eliminates the need to hire, train and manage warehouse and shipping personnel.
Lower shipping costs: Finding the optimal shipping rates is part art, part science. Rate shopping multiple carriers at a shipment level is a powerful tool to ensure least-cost alternatives and benefit from the value regional carriers could offer. At Shipwizard, we shop all carriers to bring you the best rate, always.
Reducing fixed costs: When you carry inventory, you'll pay the same rent and utilities for warehouse space even if your sales are flat or in decline. By contracting with an order fulfillment services company, that fixed cost is now a variable cost. When business is slow, your order fulfillment costs go down.
Merchandise quality inspection: What happens when you discover quality issues with your inventory? Whether on the manufacturing side (defects, missing components, incorrect packaging) or when a product is returned to your 3PL warehouse, how do you minimize quality issues and improve customer satisfaction? Involving a 3PL company in the quality control process can be the answer. At Shipwizard, we can ensure quality control in fulfillment logistics, at every stage of the process.
Focus on your core competencies: The logistics of order fulfillment can be complex. An order fulfillment company is staffed with employees and management who understand the ins and outs of order fulfillment. By outsourcing to a 3PL, you can focus on developing and marketing your products, rather than figuring out how to get orders out on time and accurately.
How Fulfillment Services Work
A fulfillment center is a third-party service provider that processes and ships products your customers purchased. Fulfillment centers handle the logistics required to get an order to a customer's doorstep, eliminating the need for you to package, address, and ship each order yourself. 
Fulfillment companies receive inventory shipments in much the same way any e-commerce warehouse or retail store accepts new inventory. Using the shipment details you provided, they check in your stock by verifying quantities and inspecting for damage.
Once your Peoria 3PL partner company receives your orders, it will process them for shipment and get them on their way to your customers. This part of the operation is commonly called pick, pack, and ship. No matter which platform you choose to accept and manage your orders, fulfillment companies make connectivity simple via technology integration. This ensures that the information about each order is easily accessible by those who are packing and shipping the orders. Once shipped, your fulfillment company will update the order status to your e-commerce platform, POS, or order management system. If a customer needs to return an item, your 3PL partner can seamlessly handle the reverse logistics.

Find Professional Fulfillment Services Near You In Peoria, AZ
As a trusted fulfillment services and third-party logistics (3PL) company, ShipWizard provides a comprehensive suite of 3PL services for Peoria companies. Our fulfillment services include:
Reverse Logistics, or Returns Management
Merchandise Quality Inspection
When looking for a fulfillment warehouse near you in Peoria, we invite you to tour our fulfillment warehouse, meet our team, and learn why other Peoria businesses choose to outsource their fulfillment. With our roots in Florida, we opened our 2nd location near Peoria, AZ, to provide two business day delivery to anywhere in the continental US. Request a quote today, or schedule a time to visit our Arizona location conveniently located near Peoria.