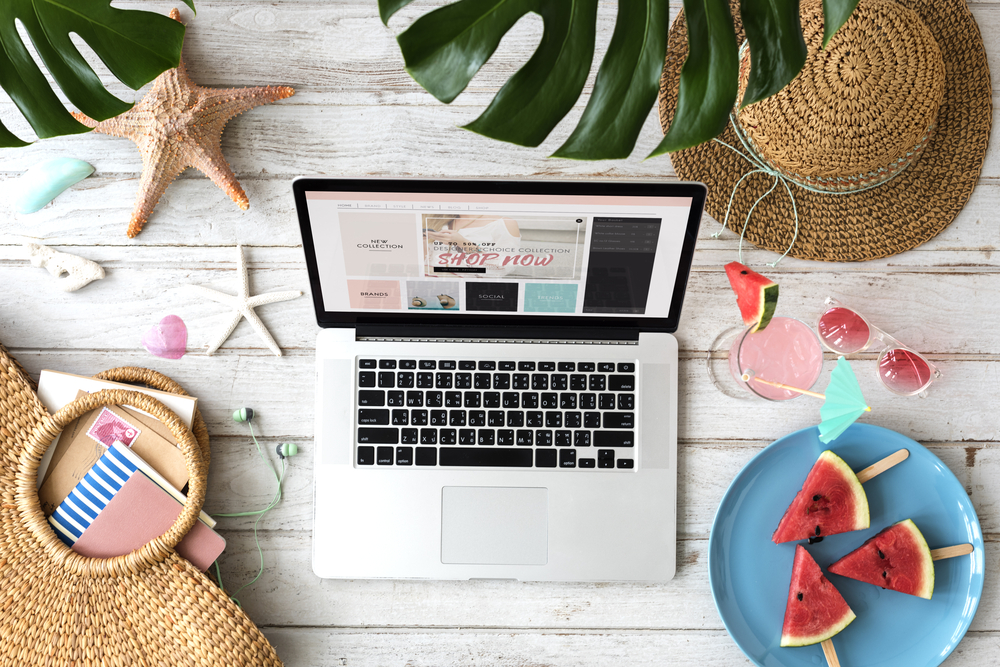 Make Your Online Store Sizzle This Summer
If your e-commerce site sells sunscreen, inflatables, solar LED lights, flip-flops, or any of the other top-selling products this season, summer is a peak time for you. Managing seasonal summer inventory can be challenging: there are many elements and tasks involved, and little time before the summer season is in full swing. Shipwizard is here to share summer 2022 product trends, and offer our professional assistance with seasonal product fulfillment. 
Hottest Products for Summer 2022
Not surprisingly, as the temperatures warm up, demand goes up for warm-weather items. School is out, so families are setting up inflatable pools, decorating backyards with LED lights, and going through a lot of sunblock. Summer is also top travel season; particularly summer 2022, due to pent up demand after the pandemic restrictions of 2022 and 2021. Everyone needs a good insulated water bottle, whether staying home or venturing out. From crop tops to portable fans, from patio furniture to ice cream machines, demand for dozens of seasonal items goes up every summer. As an experienced 3PL, we see demand increasing for a number of products, including:
Solar LED Lights
Eco-Friendly Sunscreen
Ice Cream Makers
Insulated Water Bottles
Waterproof Bags
Sunhats
Flip-flops
Swimwear
Inflatables
Beach Umbrellas & Tents
Portable Fans
Baby Sunhats
Water Slides
Waterproof Bluetooth Speakers
Air Loungers
Magnetic Car Sun Shade
Crop Tops
Playful Beach Towels
Tips To Prepare Your E-Commerce Site For Summer Demand
Demand for summer products is going up, but so is the competition. To help your online store stand out and generate sales this summer, consider the following tips:
Now is a perfect time to ensure you have sufficient inventory of your seasonal items. Running out of stock can cause inventory headaches that bleed into the holiday season. You can use historical data to forecast your numbers for summer'22. If you don't have historical data, online search trends of the products you sell can be helpful for forecasting purposes.
Take advantage of seasonal demand to clear out old inventory. When an item isn't selling, the problem may not necessarily be the product itself; it may be the season. You can use product bundles, product recommendations, and/or promotions to encourage customers to purchase your older inventory.
Refresh your website for the summer, using graphics and videos. Lifestyle images such as beach scenes, outdoor fun, barbecues, road trips tend to create that magic summer feel and inspire adventure. If you don't already use Google Analytics, now is the perfect time to install it, so you can gather data and analyze consumer behavior.
Increasing your social media presence during the summer is a great time to attract new customers and reconnect with your customer base through targeted social media campaigns.
Partner with Shipwizard for Seasonal Product Fulfillment and More
Just like the holiday season for some e-tailers, summer demand can often make or break a merchant's top-line revenue for the year. However, it can also create a unique set of logistics and fulfillment challenges that are hard to navigate without negatively impacting the bottom line.
The first impact of seasonal demand is a fluctuation in the amount of inventory storage space needed. At Shipwizard, clients with seasonal products take advantage of our overflow 3PL service, in addition to fulfillment services and returns processing. When you want a short-term logistics solution that can nimbly respond to your warehouse storage overflow issues, we are at the ready. We enjoy helping our clients scale their storage capacity during peak season(s).
Seasonal demand can also be regional. If you stock your seasonal inventory in the geographic areas of greatest demand, you are set up to meet customer expectations for faster shipping. At Shipwizard, we offer the option to distribute your inventory between our Arizona and Florida warehouses, to ensure 2-day shipping nationwide.
Whether you sell pool toys or bluetooth speakers, whether you expect to sell 50 or 50,000 items this summer, a reliable 3PL partner can help you streamline the process and avoid costly fulfillment mistakes.
‍To learn how Shipwizard can help your business manage seasonality, contact us or request a quote today.