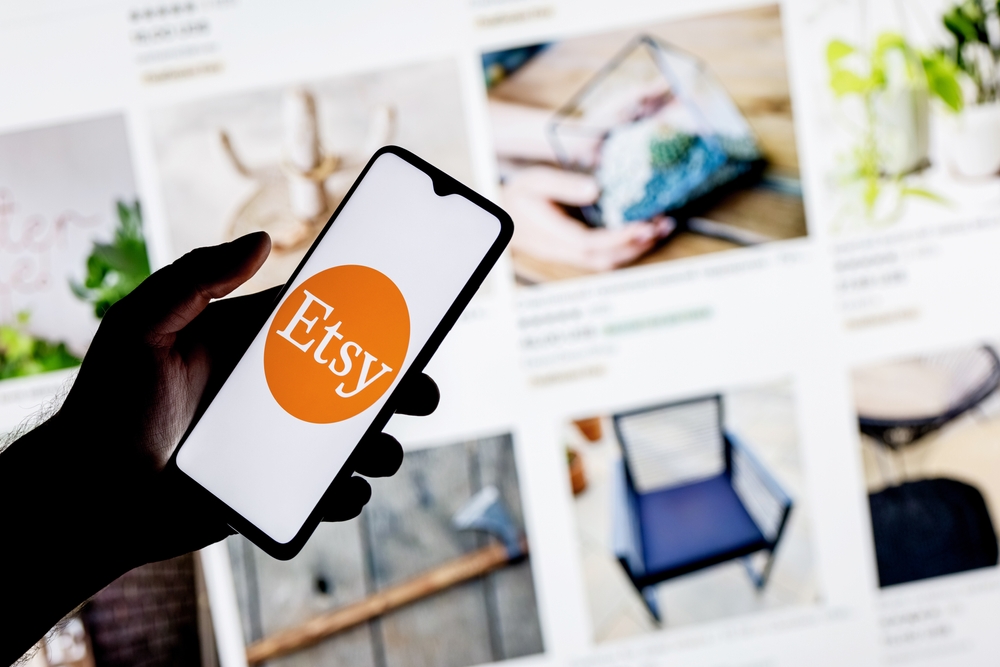 Etsy is one of the biggest online marketplaces in the world. Most consumders today know that Etsy is popular among artisans for its easy-to-use platform. But did you know there are 4.36 million active sellers on Etsy, catering to over 80 million active buyers? Etsy is ranked as the 4th fastest growing eCommerce company, behind Apple, Chewy, and Amazon. 61% of Etsy sellers are considered multi-channel retailers.
Many consumers think of Etsy as a smaller marketplace to shop for handmade, or custom-made jewelry, clothing, home décor, art, or toys. While this description may conjure up an image of a "mom and pop" or "mompreneur" seller who works out of their kitchen or garage to sell an item or two per week, many Etsy sellers process a significant volume of orders and are full-scale ecommerce businesses. According to Marketplace Pulse, some of the largest Etsy shops clock in at over 30,000 orders per month.

If you are one of the millions of active Etsy sellers, you may be reaching a point when you need help shipping out orders. It might seem easy to handle your own packing and shipping at first, but as your business grows, so does your need for a better solution. Perhaps you are starting to miss shipping deadlines, or are running out of space to store your inventory in a secure and organized way. These are just some of the signs that it's time to outsource your Etsy order fulfillment to a pro.
What Is Third-Party Fulfillment?
Fulfillment is what happens when an online order for a product is received, and the sequence of activities required to deliver the product to the customer's doorstep on time and without errors.  This includes storage or warehousing, knowing where to find each item in your warehouse (or garage or spare room), packaging it, printing the shipping label with the shipping carrier of your choice, and finally shipping it to the correct address. If you are managing this entire process on your own, this means your Etsy order fulfillment is done "in-house." 
The alternative to in-house fulfillment is outsourcing the process to a company that specializes in order fulfillment. These companies are called 3PLs (short for third-party fulfillment) and Shipwizard is one such company. Our warehousing facilities are designed and built especially for high-volume storage, monitored 24/7 to ensure the security of our clients' products, and our team is highly trained and very efficient at picking and packing each order. Our shipping specialists find the best rate for each order to help our clients save money on shipping. Last but not least, if a customer needs to return an item, Shipwizard can also handle reverse logistics, which is just a fancy term for returns processing. 
Some of the benefits of outsourcing your Etsy order fulfillment to a 3PL include:
Streamlined order processing
Lower cost of warehousing and storage
Better rates on shipping
Cost savings in all areas of fulfillment
Customer service expertise
Options for custom packaging
You will save time and energy, allowing you to focus on growing your business and marketing your products. Fulfillment companies are experts at packing, shipping, processing returns, and customer support, and are set up to be much more efficient at order fulfillment than individual Etsy sellers.
‍Etsy Order Fulfillment and Automation
In addition to offering you more affordable shipping and streamline operations, Shipwizard offers the benefit of easy integration between our fulfillment software platform and your Etsy shop. Integration makes it incredibly easy to import your Etsy inventory and orders into our fulfillment system, as well as synchronize data between the two platforms. The Etsy integration allows you to track inventory levels, customers, and shipments in real time, so you never have to wonder whether an order placed in the middle of the night will be queued up for processing by the morning.
Providing complete visibility and control over the fulfillment process is just one aspect that sets Shipwizard apart from other 3PL fulfillment services. Once the integration is set up, all of your Etsy orders are automatically sent to Shipwizard for fulfillment. When an order is placed on your Etsy store, the order information is immediately sent to the Shipwizard fulfillment center. Our experienced fulfillment center staff will receive a packing list and retrieve the necessary inventory to fulfill the order. It is then boxed up to your specifications and shipped. There are no extra steps for you to process an Etsy order on your end.
Etsy 3PL and More at Shipwizard
As an Etsy seller, you have access to over 80 Million buyers, but so do other sellers. It is important to make your listing stand out. Whether you sell baby booties or cheese boards, a major component of your listing's success will depend on your rating. Positive reviews are a key piece of criteria in earning a Star Seller badge, making it easier for shoppers on Etsy to know you have a proven record of providing an excellent customer experience. To qualify, you'll need a 4.8 rating average or above for the three-month review period, and you'll need to meet the other Star Seller criteria. When you partner with an eCommerce fulfillment company such as Shipwizard, you can rest assured that each order is fulfilled in a timely and correct manner. This translates to happy customers and improves your Etsy rating. 
Streamlining operations by outsourcing fulfillment will leave you more time to focus on developing new products, marketing them, and increasing traffic to your Etsy store. For instance, you may have more time to write detailed and keyword-optimized product descriptions, or to take new photos of your products. Buyers love photos that show off a product's best feature, and reflect the current season and trends. However you choose to spend the time you free up from order fulfillment, we are here to support you. Contact us today to request a quote and learn more about our services!