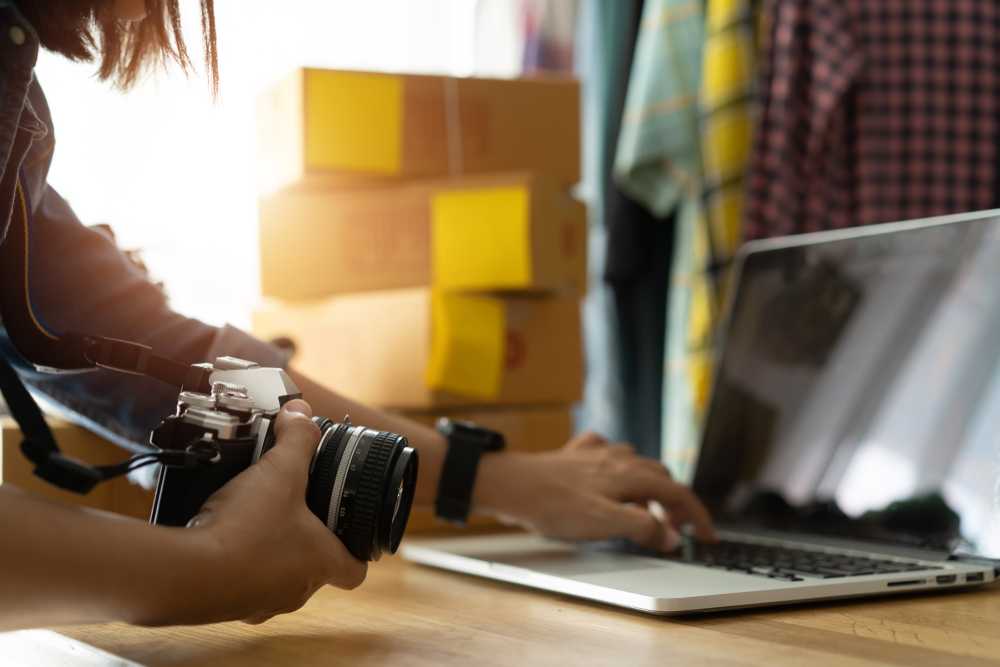 Imagine a shopping experience where your customers can examine every intricate detail, explore the dimensions from multiple angles, and even witness the product in action before clicking that "Buy Now" button. 75% of online shoppers rely on product photos when deciding on a potential purchase. By incorporating high-quality images, interactive 360-degree views, and engaging video demonstrations, you can transform your online store into a virtual showroom that surpasses the limitations of traditional brick-and-mortar retail.
As fulfillment and reverse logistics experts, we are committed to helping ecommerce businesses thrive in the competitive online landscape. We are excited to share valuable tips for enhancing the product photos in your online store; after all, better photos means fewer returns!
Product Photos and Ecommerce Returns
In the world of online clothing sales, customers often end up returning items because the product photos didn't quite match what they received. In fact, according to one study, 22% of returns occur because the product looks different in person. It happens when the color or pattern turns out to be different in reality, the size or fit doesn't live up to expectations, or the quality and material aren't up to par. For instance, if a dress looks like a bold red in the pictures but ends up being a more muted shade, or if a shirt appears loose and comfy in the photos but feels tight when actually worn, customers are likely to send those items back. That's why it's crucial to provide accurate and comprehensive product photos to ensure customers get a true representation of the clothing they're buying, reducing returns and keeping them satisfied.
What Types of Product Photos Should You Use?
There are multiple types of product photography. The best types for your store will depend on the types of products you sell, as well as which information you want to communicate about them to shoppers.
The main types of product photography include:
Individual shots: These are simple, straightforward shots of the entire product. Usually, the product is placed against a white background for this type of shot.
Detailed shots: A detailed shot focuses on specific parts of the item. For example, you might zoom in on the lace pattern of an item of clothing.
Scale shots: For a scale shot, you place the item alongside something — such as a ruler or a coin — which helps viewers gauge the product size.
Lifestyle shots: This type of shot displays the product as it may be used in real life. For example, you might depict someone using a tool or going on a hike wearing clothes that you are selling.
Once you have identified the types of photos most appropriate for the items on your website, it's time to work on getting the best possible shots.
Product Photography Tips For Ecommerce Websites
Online shoppers don't have the same sensory experience as those who shop in-store. They can't touch, try or feel the products you sell. And yet, studies show that people take in 80% of what they see and just 20% of what they read. That's why product photography is so crucial to the success of your business. Here are some tips for product photography specifically tailored to e-commerce website owners:
Use Proper Lighting: Ensure that your items are well-lit to accurately represent their colors and details. Natural light or diffused artificial lighting can help minimize harsh shadows and bring out the true appearance of the products.
Display Front and Back Views: Capture both the front and back views of the clothing items. Customers want to see the complete picture, including any unique features, patterns, or designs on the back of the garment.
Show Different Angles: Include multiple angles of your clothing items, such as close-ups of fabric textures, buttons, zippers, or stitching details. This helps customers get a comprehensive understanding of the product's quality and construction.
Provide Size References: Include a reference item, such as a ruler or a common object like a coin, to provide a sense of scale and help customers gauge the size accurately.
Provide Size Charts: In addition to photographs, include detailed size charts that provide measurements for different parts of the garment. This helps customers choose the right size and reduces the likelihood of returns due to sizing issues.
Model or Mannequin Usage: Displaying clothing items on a model or mannequin can give customers a better idea of how the garment fits and drapes on the body. This allows them to visualize themselves wearing the clothing.
Consistency is Key: Maintain a consistent style and background for your product photos to create a cohesive and professional look. This helps build trust and familiarity with your brand.
Edit and Optimize: After capturing the product photos, edit them to enhance colors, sharpness, and overall visual appeal. Optimize the image file sizes for faster website loading without compromising image quality.
Test and Iterate: Monitor customer feedback and track conversion rates to gauge the effectiveness of your product photos. Continuously test and iterate your photography approach to find what resonates best with your target audience.
Trust ShipWizard to Handle Your Ecommerce Returns And More
At ShipWizard, we manage the entire merchandise returns process for you and your customers, from the point at which your customer decides to return an item, to receiving the return on our end to processing it accordingly. Above all, we make sure that your customers have a positive and productive experience that leaves them feeling loyal and eager to continue doing business with you. Returns management is a key part of your customer service strategy. With a reverse logistics partner like ShipWizard in your corner, you can be sure that this customer will be treated like a VIP…from start to finish. Contact us today to learn more or get started!