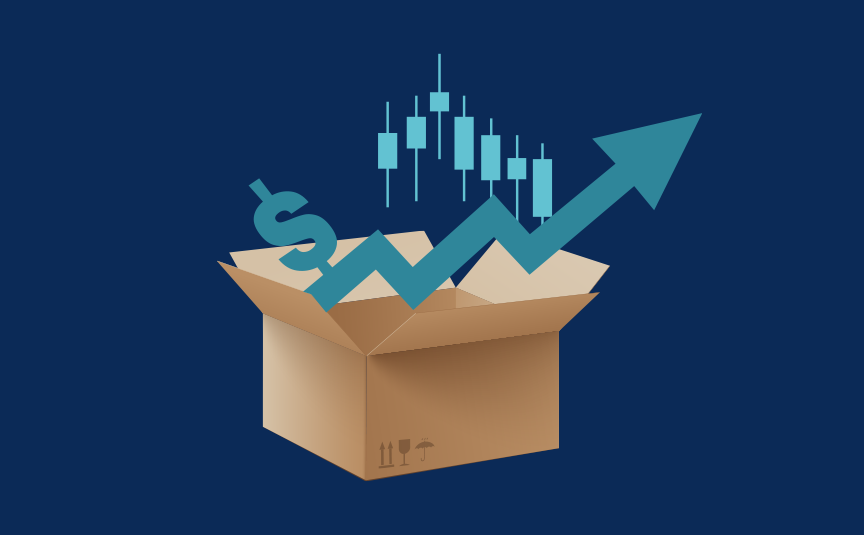 Starting in March 2022, the US Federal Reserve initiated a cycle of interest rate hikes to combat inflation, gradually raising rates from nearly zero to a target range of 5.25% to 5.50% in July 2023. If you are concerned about the impact of higher interest rates on your e-commerce business, you are not alone. As Shipwizard, a leading 3PL company that specializes in supporting e-commerce businesses, we understand the significant impact that higher interest rates can have on your operations. As your 3PL partner, we don't just move packages from point A to point B; we're your strategic ally in optimizing every facet of your supply chain. From warehousing and inventory management to precision order fulfillment and strategic shipping, we've got you covered, even in a new economic climate.
Rising Interest Rates, Ecommerce, and 3PL
Let's review how our services can help reduce costs related to inventory and shipping, ensuring that your e-commerce business remains efficient and competitive, even in challenging economic conditions.
Inventory Management:
One of the key areas where e-commerce businesses can feel the pinch of higher interest rates is inventory management. With interest rates on the rise, holding excess inventory can become a costly affair, tying up valuable capital and accruing additional interest expenses. Shipwizard can assist you in optimizing your inventory levels by:
Warehousing Solutions: Our state-of-the-art warehousing facilities allow for efficient and cost-effective storage of your products. We offer flexible storage options that can scale with your business needs, ensuring you're not overcommitting capital to storage space.
Inventory Forecasting: By leveraging analytics and real-time reporting, you can better predict demand and optimize stock levels. 
Shipping and Fulfillment:
Shipping and fulfillment costs are another significant concern for e-commerce businesses, especially when interest rates rise. Shipwizard can help you reduce these expenses by:
Shipping Optimization: We leverage our extensive network and expertise to find the most cost-effective shipping solutions. Rate shopping multiple carriers at a shipment level is a powerful tool to ensure least-cost alternatives and benefit from the value regional carriers could offer. At Shipwizard, we shop all carriers to bring you the best rate, always. Depending on how frequently you ship and the type and weight of your shipments, you may actually benefit from a mix of USPS, UPS, and FedEx.
Order Fulfillment: Our efficient order fulfillment processes ensure that your customers receive their orders quickly and accurately. This leads to higher customer satisfaction and a higher reorder rate.
Returns Management: Managing returns efficiently is crucial in e-commerce. Shipwizard can help you streamline the returns process, reducing associated costs and ensuring that returned products are quickly returned to inventory. We manage the entire merchandise returns process for you and your customers, from the point at which your customer decides to return an item to receiving the return on our end to processing it accordingly. Above all, we make sure that your customers have a positive and productive experience that leaves them feeling loyal and eager to continue doing business with you.
Scalability: As your e-commerce business grows, we can scale our services accordingly, helping you avoid excessive capital investments. Whether you're suddenly hit with a surge in orders or planning a gradual expansion into new markets, our logistics solutions are flexible and adaptable. You won't need to worry about the hassle and cost of investing in new warehouses, equipment, or hiring and training additional staff.
Sail Smoothly Through Rising Tides With ShipWizard as Your 3PL Partner
Shipwizard is a premier 3PL service provider, specializing in ecommerce order fulfillment, secure and temperature-controlled warehousing, as well as returns management. Our FDA-registered cGMP-compliant warehouse makes us an ideal fulfillment partner for medical device and dietary supplement companies. With locations on the East Coast and West Coast, we can ensure 2 business-day order delivery to the majority of US customers. Above all, our Shipwizard Cares philosophy shines through every interaction with our clients, from onboarding to dedicated account management, to inventory inspection and beyond.
Whether you are a seasoned e-commerce entrepreneur, a startup with big dreams, or somewhere in between, the intricacies of logistics are a common thread that binds us all. As your trusted 3PL partner, we recognize that no two e-commerce businesses are exactly alike. That's why we tailor our solutions to meet your unique needs, offering you the expertise and support you require to stay competitive in today's rapidly changing market. Contact us today to discuss your goals and see how ShipWizard can help your ecommerce business thrive amid rising interest rates or other economic factors.