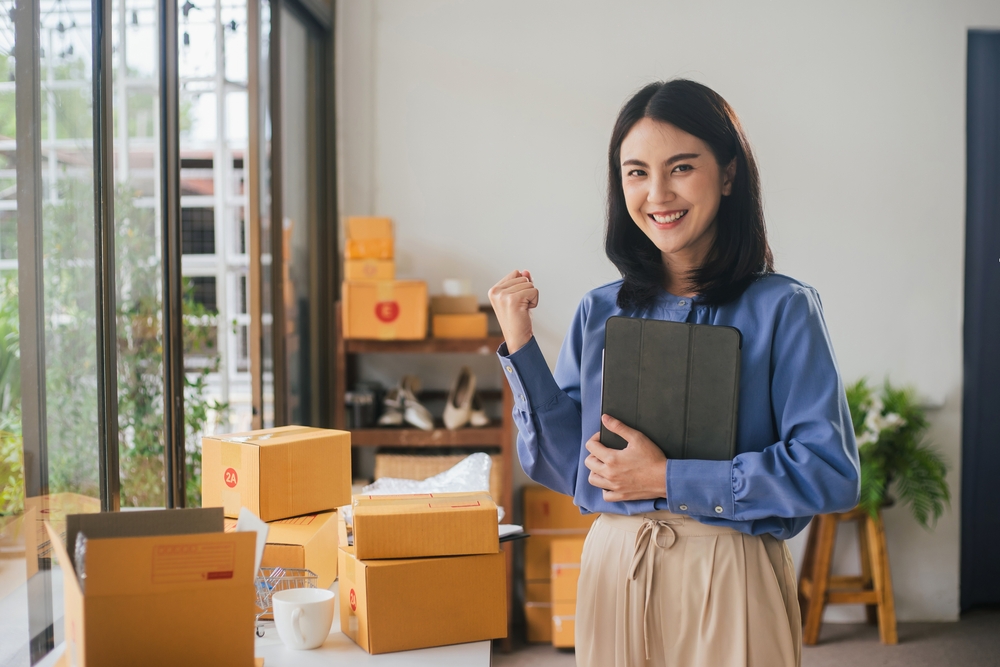 Win at E-commerce in 2023
Starting an e-commerce business has never been easier. But with a low barrier to entry, there is plenty of competition as well. If you have set your sights on growing your e-commerce business, you know that small adjustments can add up to major results. In 2023 it will be more important than ever for e-commerce businesses to leverage every opportunity to improve operations and keep their customers satisfied. With the cost of goods going up due to inflation and lingering supply chain issues, there are many factors at play that are difficult for business owners to predict or control. The good news is, there are business strategies that can help your business grow in any economic environment. At ShipWizard, a trusted 3PL service, we wish to see every e-commerce business grow and thrive in 2023 and beyond. As your fulfillment partners and cheerleaders, today we discuss three ways to generate more sales. 
Encourage Repeat Business
It is much easier to sell to someone who is already a happy customer than to a stranger. Acquiring a new customer can cost five times more than retaining an existing customer, and  increasing customer retention by 5% can increase profits from 25-95%. 
Some of the most common ways to increase sales to existing customers include loyalty programs, where you can offer customers a particular reward after a set level of use. If you have ever used a punch card from a loyal frozen yogurt shop, you have been a member of a loyalty program. E-commerce loyalty programs are not that different. Membership may be paid or free. And when customers join, they are given special deals, discounts, and rewards for engaging with the brand and buying products. A good rewards program both encourages and rewards repeat business, by offering points, discounts, free shipping, special shopping days, member-only perks, and more to keep customers excited about the brand and its products. Loyalty programs are a powerful marketing strategy that drives spending and brand allegiance, with as many 83% of online shoppers belonging to at least one loyalty or rewards program.
Subscription service programs are another way to sell more to the customers you already have, as opposed to chasing new customers. Subscriptions can add predictable sales outcomes to your business. The eCommerce subscription service model is estimated by McKinsey to be a $12–$15 billion industry. Subscriptions can help you increase repeat business, as long as you regularly deliver a good experience. A subscription increases the customer lifetime value with long-term sales instead of the unpredictability of one-off purchases. Many eCommerce retailers are relying on continuity orders to introduce their less popular items to an audience that may have never noticed those items before. The popularity of subscriptions has encouraged brands like Nike and Bloomingdale's to test out subscription programs, but you don't need to be a Fortune 500 company to offer a subscription program. At Shipwizard, we support our clients with subscription box fulfillment, whereby their continuity orders go into the system and are fulfilled with the same speed and accuracy as any other product in need of distribution. Our kitting service is a perfect complement to the subscription box fulfillment process. You can choose to have us kit all of your items together, or kit just a few if you're offering multiple box configurations, in order to speed up the picking process.
Provide Outstanding Customer Service
The sales process continues past the point of making a sale. In today's digital-first world, e-commerce customer service is a prerequisite for success. As online shoppers usually can't touch or experience your product before buying, unlike a physical store, you need to reduce their concerns by making the purchasing experience as trouble-free as possible for them. You also need to ensure that they have the confidence to purchase from you, knowing that you will help them should something go wrong with their purchase. But what are some ways you can improve customer service?
One of the most underrated tactics of good e-commerce customer service is self-service. Over 60% of U.S. consumers prefer automated self-service, such as through a website or mobile app, for simple customer service tasks. The reason for such numbers is that customers want to learn and discover things for themselves, as opposed to contacting a company over and over for an issue or explaining their request repeatedly.
When self-service does not suffice, you need to offer personal customer service with a fast response time. Customers who choose to shop online are expecting a fast reaction and prompt answers. According to Statista, 12% of Americans rate their number one frustration with customer service as "lack of speed."
Allowing customers to reach your customer service team using different channels is a good starting point, but the key to great customer service is the balance between speed and convenience. No customer service approach is set in stone. Companies have to be proactive in solving customers' problems while constantly improving processes based on data. Evaluate your customer support request volume by channel, track your busiest hours, and follow trending topics among your customers to become attuned to their needs and brand sentiment. From there, you will be able to analyze and optimize your customer service process.
Research conducted by American Express shows that buyers are willing to spend 17% more to do business with a company that provides excellent customer service, so excellent customer service can definitely help increase sales in 2023.
Offer 2-Day Shipping
Today's shoppers want the convenience of buying online with the gratification of getting their orders ASAP. e-Commerce giants have set the norm for the industry by offering their customers two-day and even same-day shipping options. This is known as the Amazon effect. As a smaller e-commerce retailer, it is important to offer shipping terms that are competitive with what your customers have come to expect. Studies have shown that 26% of online shoppers abandon their carts due to slow shipping and 53% consider delivery time an essential factor when evaluating their orders.
When you offer two-day shipping, you deliver consumer purchases within two days of the order. Two-day shipping does not necessarily mean the customer will receive the package within 48 hours of placing the order – rather, it means they will receive it within two business days once the item is shipped to them.
2-day shipping can be tricky to implement on your own, particularly if your inventory is located far away from the destination. The cost of shipping within two days depends on several factors. Here are some things that affect the cost of offering a two-day shipping program:
Type of mailable items you are shipping
Peak period on delivery calendar
Time and day delivery shipments are scheduled
Delivery carrier and service used
Zip code for the location of origin
Zip code for the destination
Dimensional weight
Package characteristics (e.g., hazardous materials, fragile items)
Online sellers often choose to partner with a 3PL such as ShipWizard to simplify 2-day shipping. With a 3PL, you will store their inventory at the third-party logistics company's fulfillment center and the company ensures it is shipped out and delivered on time. This arrangement allows sellers to leverage distributed warehouses and significantly reduce shipping costs. With an East Coast and a West Coast warehouse ready to receive and store your inventory, we can enable your business to offer 2-day shipping nationwide. We find the best shipping rates for your product, leverage technology for real-time reporting, and proactively look for opportunities to streamline operations. 
Grow Your E-Commerce Business With the Right 3PL Partner
Running an e-commerce business requires you to wear many hats: you are building your brand, sourcing your products, running your website and customer service, and making sure that the orders are delivered to your customers accurately and on time. That is why partnering with a third-party order fulfillment company is so important for helping your company grow and scale in 2023. If you are ready to win at e-commerce next year, give us a call or request a quote online so we can learn more about your business and propose a plan for helping you reach your sales goals in 2023 and beyond.