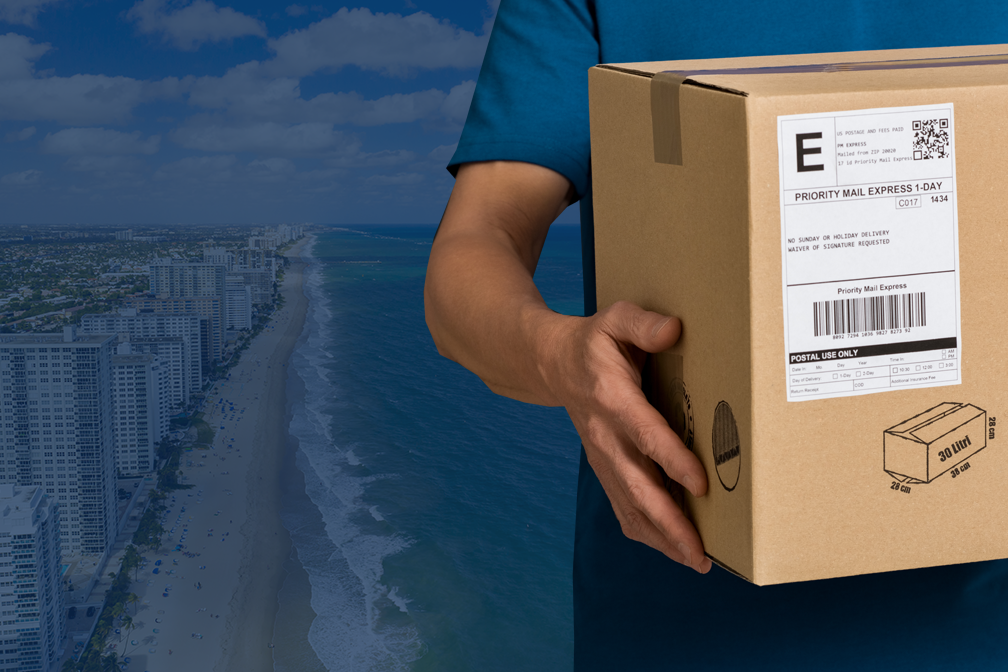 3PL Services Serving Fort Lauderdale, FL
If your e-commerce business is based in or near Fort Lauderdale, FL, chances are, you are familiar with the benefits of third-party fulfillment services near you. World famous for its expansive canals, Fort Lauderdale is loved by tourists and often referred to as the "Venice of America." Fort Lauderdale is home to large, established hospitality, retail, tech, education, and healthcare industries. The region has also attracted other industries such as marine, financial services, and logistics. Florida fulfillment providers are the perfect choice for companies looking to have their product delivered to East Coast destinations. ShipWizard, an experienced 3PL provider, is strategically located in Fort Lauderdale FL, offers 2-day delivery across the country thanks to its expertise in inventory splitting and a second warehouse on the West Coast.
Fort Lauderdale – A Gateway To East Coast Fulfillment
Fort Lauderdale, Florida, the county seat of Broward County, is located 25 miles north of the city of Miami and boasts a robust economy. The city is a major manufacturing and maintenance center for yachts. Several national or international companies are headquartered in Fort Lauderdale and are among its largest employers. According to the Greater Fort Lauderdale Alliance, nearly 200 companies have corporate, division or regional headquarters in the area. In addition, several local colleges and universities offer programs related to logistics, including the Global Trade and Logistics program at Broward College and an MBA in supply chain management and a supply chain management certificate at Nova Southeastern University, among others. The state of Florida has no state income tax, one of the many factors making it an attractive place to start a business. 
Benefits of Outsourced Fulfillment
Third-party logistics providers, or 3PLs, provide outsourced services to help a business manage all or parts of its supply chain and logistics operations. Whether your online store sells vitamins, video equipment, or vintage jewelry, there are many reasons to partner with third-party fulfillment services to handle order processing, fulfillment and returns management. They include:
Lower shipping costs: 3PLs often have access to better shipping rates due to volume discounts, since they handle order shipping on behalf of many clients. At Shipwizard, we shop all carriers to bring you the best rate for order fulfillment. Rate shopping multiple carriers at a shipment level is a powerful tool to find the most cost-effective alternatives and benefit from the value regional carriers could offer. 
Option to scale up or down: your order volume can fluctuate, especially if you sell seasonal items such as lunchboxes or holiday lights. To fulfill a surge in orders, an 3PL service near you in Fort Lauderdale enables you to quickly scale up operations and ensure that all orders are delivered according to customer expectations. When your sales are slow, you can scale down your inventory without dealing with excess warehouse space.
Returns management: The average ecommerce return rates hover around 20-30%. Some industries and businesses are more susceptible to high return rates. For example, an apparel company may have to deal with higher return rates because customers cannot physically try on the clothes before buying. Processing returns and issuing refunds quickly can be a time-consuming and cumbersome process for e-commerce store owners. Fortunately, 3PLs such as ShipWizard specialize in returns management, that starts with customers wishing to return a product, and ends with the business collecting, organizing, and restocking that product.
Selecting A Fort Lauderdale 3PL For Your e-Commerce Business
You don't have to be a Fortune 500 company to enjoy the benefits of an East Coast fulfillment center in Fort Lauderdale. In fact, you will find plenty of 3PL options for you to consider in the area. To help you narrow down your fulfillment options, here are some questions to ask:
Size: Does the warehouse have enough space for your inventory? What happens if your business grows and your warehousing and fulfillment needs change?
Security: How will 3PL protect your merchandise? Does it have closed-circuit cameras in the facility? How are packages and products tracked in the warehouse cycle?
Customer service: Does your Ft. Lauderdale 3PL partner provide a dedicated account representative? How quickly can you expect to hear back if you have a question or concern?
E-commerce Integrations: can the 3PL company easily connect to your e-commerce platform, such as Shopify, SquareSpace, Wix, or Magento? A well-connected 3PL can integrate with the most popular shopping carts, so that they can start receiving customer orders immediately and eliminate tedious manual order entry.
At the end of the day, selecting a 3PL comes down to trust. When entering into a 3PL relationship, make sure that the vendor you choose has experience with your product or industry, understands your priorities and order fulfillment policies, and has solid communication protocols in place.
Comprehensive Fort Lauderdale, FL Fulfillment Services
As a premier fulfillment services and third-party logistics (3PL) company, ShipWizard provides a comprehensive suite of 3PL services for Fort Lauderdale companies. Our fulfillment services include:
Reverse Logistics, or Returns Management
Merchandise Quality Inspection
Founded in Florida, our second location in Arizona allows us to provide 2 business day delivery to anywhere in the continental US. When looking for a fulfillment warehouse near you in Fort Lauderdale, you will find that Shipwizard offers the individual attention you may expect from a local fulfillment warehouse, along with the robust technology and fulfillment capabilities of a nationwide 3PL. Request a quote today, or schedule a time to visit our facility conveniently located in Fort Lauderdale.